Last Thursday, the Automotive Recyclers of Canada (ARC) hosted a virtual session on Canadian Electric Vehicle and Hybrid Auto Recycling, featuring compelling conversations from industry leaders like Joanna Kyriazis of Clean Energy Canada; Kunal Phalpher of Li-Cycle; Jeff Haltrecht of Call2Recycle and Hans Eric Melin of Circular Energy Storage.
The four-and-a-half-hour event saw nearly 200 virtual attendees listen in on key analytics and principles needed to successfully navigate the impending electric vehicle era. 
The overall outlook
Kryriazis, who heads Clean Energy Canada's clean transportation work, kicked off the event with a brief overview of electric vehicle policy in Canada.
"One of the ways to meet the Canadian government's goal is by really moving fast toward the transition to electric vehicles," said Kryriazis.
The Canadian government is striving to end the sales of gas-powered passenger vehicles by 2030 and medium/commercial-duty vehicles by 2040.
When compared to other countries⁠ striving for similar goals, Kryriazis said Canada was on a steady path until 2020, when "something" happened.
"In 2020, other countries– like the U.K., France and Germany⁠—saw exponential electric vehicle growth. We did not see the same effect here in North America."
"That said, I think some of the leadership we're seeing from President Biden and Prime Minister Trudeau⁠—we're about to see EV adoption really pick up speed in Canada."
Clean Energy Canada has been collecting data from Canadian consumers in recent years to develop a sense of how realistic the government's goals are.
"According to one of our most recent polls, almost 60 percent of Canadians say that they would choose an electric vehicle over a gas-powered car if they were buying a new car today," said Kyriazis. These results include data from all age groups and regions of Canada, she said.
"Canadians living in rural communities and Canadians who tend to vote Conservative were less likely to consider an EV, but still, 48 percent of those Canadians were still leaning toward an EV for new vehicle purchases."
"The landscape has shifted in terms of public opinion in Canada."
Kyriazis said there's also been a shift on the manufacturer side. 
"All major automakers have announced big electrification commitments and investments in electric vehicles. We're expecting about $300 billion poured into EVs and their batteries over  the next five years."According to Clean Energy Canada's data, Volkswagen leads the pack with its proposed commitments to electrification, with $83 billion in investments planned over the next vehicle years. The German automaker also plans to dedicate 58 percent of its capital expenditures to EVs. 
Mercedes-Benz, Stellantis (formerly Fiat-Chrysler), General Motors and Ford have also dog-eared large sums for electric development.  
Kyriazis also stressed the ample opportunities available in the Canadian battery supply chain. 
"Canada has good reason to start thinking about some of those earlier stages in the supply chain; mining, extraction and refinement⁠—turning those materials into components for EV batteries. We've got lithium, cobalt, nickel, graphite…and some of the top battery researchers in the world.
"At the end of the supply chain⁠, well, Canada is home to some of the top battery recycling companies in North America."   
Finding the fit
Steve Fletcher, managing director of the ARC, was next up on the docket to discuss how Canada's auto recyclers fit into the Canadian EV landscape.
"We are not policymakers," admitted Fletcher. "We are policy-takers."
Contrary to popular belief, auto recyclers are dealing with electric end-of-life vehicles here in 2021; it's not a challenge to anticipate, but a challenge to be actively prepared to handle.
That being said, advanced vehicle batteries are not currently included in the CAREC standard or audit protocols said Fletcher⁠—only lead-acid batteries. 
"We are looking to update the CAREC standard to modernize and reflect these new batteries and the resources the industry is going to need," he said. 
The biggest question being asked by ARC is how many auto recyclers are not buying EVs because they don't understand them or don't have the training required to handle their components. 
According to ARC data, EV stockpiles range from zero to 50 units across its members, with an average of four EVs per ARC member.
Fletcher emphasized that, along with reformed regulations, a tremendous amount of industry education still needs to be done in order to meet the demand associated with the electric shift. 
"There is a tremendous need for industry training in safety, storage and logistics. We want to have a way to manage these procedures properly. We're in the process of pulling all of our information together so we can make this a subject that auto recyclers embrace and incorporate in their business for the future." 
Connecting the dots
Jeff Haltrecht, an executive with Call2Recycle was next on the speaker lineup to deliver some key insights around EV battery removal and the areas of battery storage and shipment.
Where removed EV batteries end up depends on whether they are in warranty or not, said Haltrecht. If under warranty, the vast majority are handled by dealer networks or by manufacturers at designated service centres. If not under warranty, battery removal becomes a whole different ball game.
"Auto recyclers will have at least 50 percent⁠—maybe even higher than that⁠—while the dealers and manufacturers will drop down to about 45 percent," said Haltrecht. "You also have independent garages⁠—namely in California, but there are small, emerging networks in Quebec as well as taxi fleet networks in British Columbia⁠. That's certainly an evolving area."
Haltrecht said there are two pathways that lead to EV battery removal: vehicle/battery repair or vehicle/battery end-of-life.
In the instance of vehicle repair, the battery is taken to vehicle manufacturer dealers or service centres; then, in the event of further repairs, the battery is sent to a remanufacturing centre for surveyal. The battery is then rebuilt, sent back to the manufacturer and incorporate into a new vehicle. Modules not fit for remanufacturing are either sent for repurposing or to an auto recycling facility.
In an end-of-life scenario, batteries will either go directly to auto recycling, or to a repair centre. If sent to a repair centre, the business will either send it to an auto recycling facility, resell as-is, or send it directly to repurposing.
Haltrecht also touched on Transport Canada shipping requirements, which requires EV batteries to be transported in shipping containers. 
"I highly recommend auto recyclers understand the shipping rules around EV batteries," he said.
If transporting batteries, you will have to acquire those shipping containers yourself⁠—or through a partner like Call2Recycle⁠. There are options for single-use or multi-use containers.
"Multi-use containers are very robust," said Haltrecht. "You can use them 70 to 80 times."
Watching the wheels turn
Following Haltrecth was Li-Cycle's Chief Commercial Officer Kunal Phalpher, who covered the company's operations in the Canadian battery ecosystem.
In a nutshell, Li-Cycle recycles electric vehicle batteries to reproduce battery grade and high purity materials for resale and reuse.
With two running plants currently operating⁠—one in Kingston, Ontario, and another in Rochester, New York⁠—and two more planned to open in 2022, Phalpher said Li-Cycle will soon be capable of shredding up to 40,000 electric vehicles per year.
From its recycled batteries, Li-Cycle takes two materials⁠—shredded copper and aluminum as well as mixed plastic⁠—and sells them to the market for further recycling. It also sends the recycled black mass to a centralized hub to be incorporated into new vehicle batteries.
In it for the long haul
Hans Eric Melin⁠, industry consultant and founder of Circular Energy Storage, kicked off his presentation with some compliments to his hosts.
"This is one of the best seminars I have ever attended on this subject," he said, applauding the ARC's events. "This is an area with so much misconception and misunderstanding⁠—there has been so much great discussion here today."
Based in London, U.K., Circular Energy Storage collects data and tracks the status of electric vehicle batteries in the end-of-life process around the world. The company works both as an industry consultant in addition to publishing its findings to subscribers in the sector.
"[As an industry] we are often seen as 'bear'-ish, in the sense that most think it'll be a while before batteries reach end-of-life," said Melin. "I see it more as bullish; we are bullish about batteries will perform."
According to his company's data, Melin said there's no real measure to tell when a vehicle battery may return to the supply chain after use.
"The whole life cycle is very smooth and lasts a long time," he said.
Using Circular Energy Storage data, the average share of batteries reaching end-of-life while under warranty sits at just two percent. An estimated five percent of batteries reach end-of-life due to accidents in the first 10 years; two percent reach end-of-life due to degradation over 13-15 years and 90 percent of EV batteries reach end-of-life simply because it's no longer economical to repair the vehicle itself.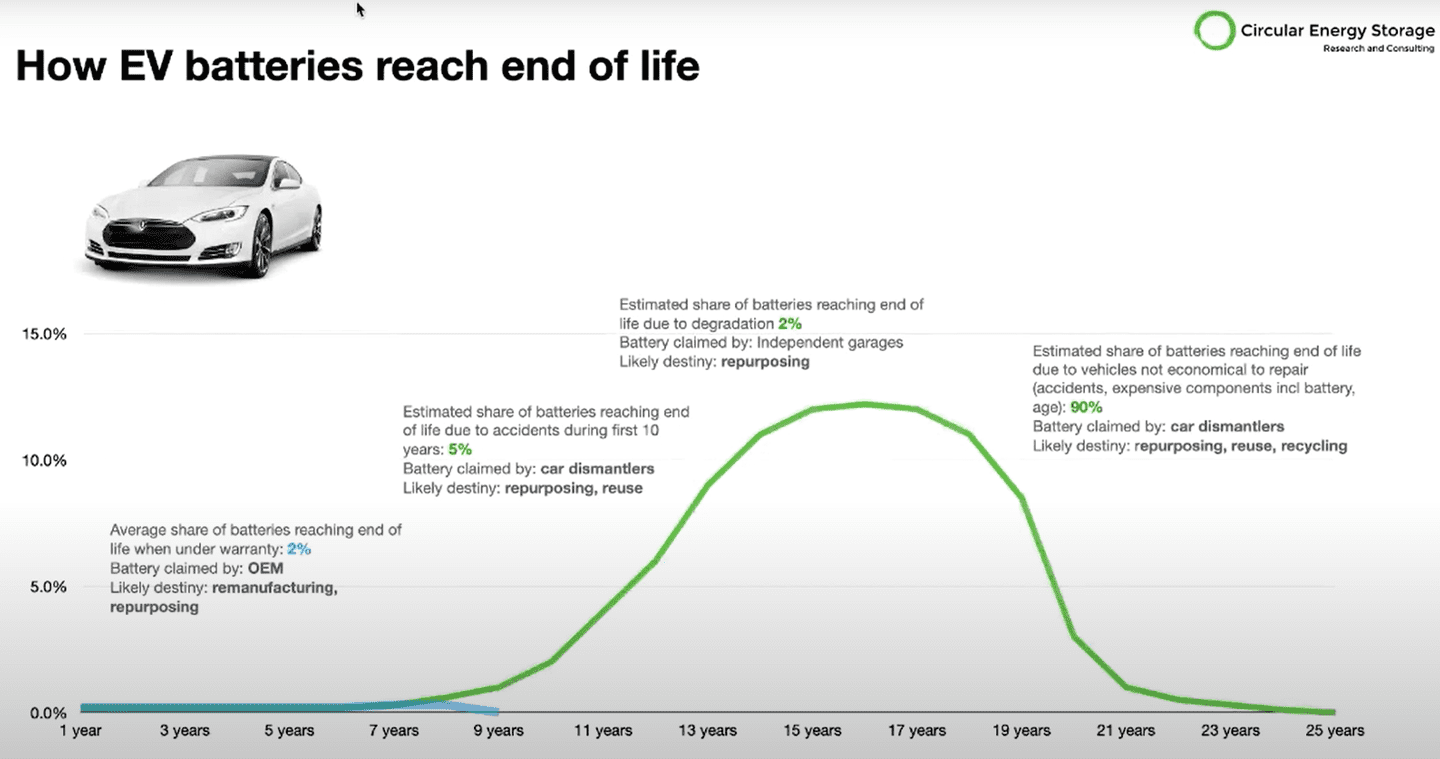 Overall, with more than 150 virtual attendees tuning in, the ARC's virtual event proved to be a big win for the organization and recyclers with EV goals alike. 
"It was fantastic," Fletcher told Canadian Auto Recyclers. "We have already undertaken a lot of follow-up with delegates and people and organizations that are starting to review the information presented. The level of interest is off-the-charts. To have all of these instrumental industry stakeholders delivering such compelling insights and providing us with the information we need to strive forward on this topic⁠—it doesn't get any better than this."
All sessions from the ARC's session with Auto Recycling World are available for free HERE.